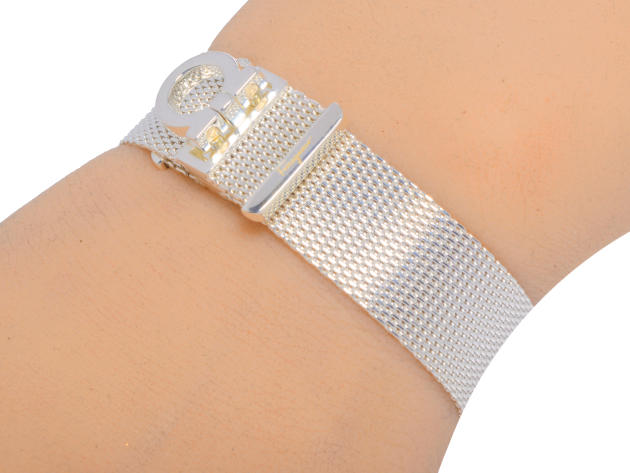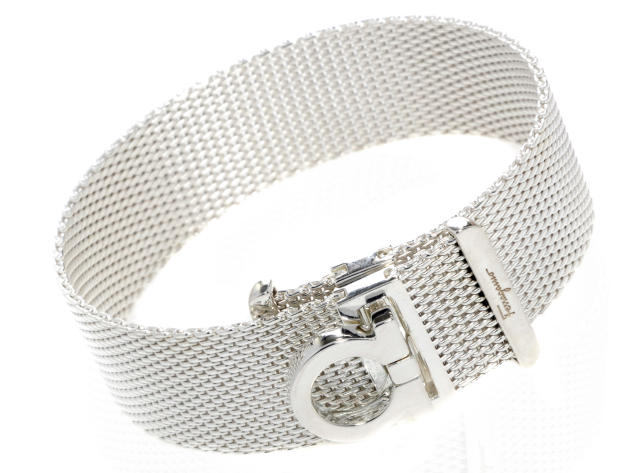 Ferragamo Gancini Sterling Silver Bracelet 704729 (Store-Display Model)
by Ferragamo Gancini
Wear Both Luxury & Subtle Charm with This 5.25" Mesh Band Featuring a Sophisticated and Polished Silver Gancini Logo Closure
Description
Italian luxury goods company Ferragamo specializes in shoes, Swiss watches, leather goods, jewelry, and ready-to-wear clothing for men and women. The company has many famous creations under its belt, such as metal-reinforced stiletto heels favored by Marilyn Monroe and Margaret Thatcher's popular handbags. The company offers an eclectic portfolio of luxury goods that are favored by celebrities and distinguished clientele worldwide.

Ferragamo Gancini Sterling Silver Bracelet - 5.25" Mesh Band (Store-Display Model)
This gorgeous Ferragamo Sterling Silver Statement Bracelet features a polished wide mesh band with a Gancini logo closure. The band's width is 15mm with 5.25" of length. This designer jewelry is shipped with a Ferragamo Box. Sterling silver will naturally tarnish with exposure to the air, environment, and beauty products. Regular cleaning will help keep your silver sparkling.

Authenticity Guaranteed. All Products are Store-Display Models, Sourced from Authorized Retailers. They've only been handled by staff and tried on by customers but have never left the store. Some have never left the store vault.
15mm width. Eye-catching width that goes well with any style
5.25" mesh band. Luxurious silver band with a cloth-like texture
Perfect for casual wear. Fits & adds layers to your everyday style
Care instruction. Regular cleaning will help keep your silver sparkling
Luxurious packaging. Shipped with a Ferragamo box
Specs
Specs
Model: 704729
Mesh: sterling silver
Mesh length: 5.25"
Mesh width: 15mm
Clasp: push & lock
Gancini logo lock: polished silver
Brand: Ferragamo
Country of origin: Italy
Includes
Ferragamo Gancini Sterling Silver Bracelet - 5.25" Mesh Band (Store-Display Model)
About ShopWorn
ShopWorn is an e-commerce platform offering authentic, unused, unworn luxury products secured directly from authorized retailers and brands to customers. When brands and retailers have unsold inventory, they contact the ShopWorn team to hand over hundreds of jewelry, watches, and luxury accessories that have never found a permanent home.

The ShopWorn team meticulously inspects every item, accepting only high-quality products with minimal blemishes. These blemishes are what make the products "shop worn" as they're the result of being handled in a store -- or shop -- environment. "Shopworn" means the item has never left the store. Customers who buy from ShopWorn are the first customers to own the item.

Since ShopWorn only works with authorized retailers or directly with brands, every ShopWorn product is guaranteed to be 100% authentic. A ShopWorn customer need never wonder if a product has been refurbished using unauthorized parts or if it is a knockoff. The direct relationship between ShopWorn, brands, and authorized dealers alleviates any question of authenticity.
Shipping
Ships to Contiguous US
Expected Delivery: Feb 12 - Feb 17
Terms
Returns accepted within 30 days of shipment for orders within the Contiguous US.